It is known that sexual function and  ED erectile capacity decline with age in men. But it necessarily is not restricted to older men or people in the age group of <50-70. Recent studies have shown an increase in ED in the younger aged populations, especially in people aged 35-40. While studies on Erectile dysfunction mainly involve older-aged men, the fact that younger men can have erectile issues as well has often been overlooked.
ED in older population
 Animal studies have previously shown that age plays an essential role in the development and cellular aging of the system. Erectile dysfunction will eventually occur in every individual's life and even increase in intensity after the initial phase. As one ages, there are changes in the Corporal Smooth Muscle Cells that form the structural basis of cavernous space involved in relaxing the penile muscles. The smooth muscle cells tend to degrade after a particular period, impacting the organs connected or related to the muscles. Around 15% degradation initiates the dysfunction process and the malfunctioning of the corporal tissue in penile regions.
As a systemic defense mechanism, the corporal SMCs combat the aging process by expressing nitric oxide synthase and increasing nitric oxide production to combat the intracellular oxidative stress responsible for Erectile deficits. But they need external help from a nitrate-rich diet, supplements, or therapy to increase NO production to optimum limits.
In a study conducted to estimate the prevalence and severity of ED in 50-75-year-old Finnish men, the overall prevalence of ED was 76.5%. The incidence increased from 67% in men 50 years old to 89% in 75 years old and increased in severity yearly. Diets were helpful to some extent in improving the metabolic pathway related to erectile function. But satisfactory results could be obtained only through medications or systemic therapy.
Erectile problems in a younger population
 Multi-center worldwide studies involving 27,000 men from eight countries have shown a prevalence of 8% among 20-29 years and 11% in 30-39-year-olds. As a part of the MALES ( Men's Attitudes to Life Events and Sexuality ) Study, 27839 men aged 20-75 years were interviewed in eight countries using a standardized questionnaire in Phase I of the trial and 2912 males were included in Phase II trials, who were subsampled from  Phase I participants .
The first sample showed a prevalence of 16% of subjects with ED, which was highest in the United States and lowest in Spain and Brazil. Age and comorbid medical conditions/risk factors like diabetes, hypertension, dyslipidemia, and depression contributed to its prevalence or were reported as comorbid conditions in men diagnosed with ED.
MALES Phase II data indicated that 58% ED diagnosed men had actively sought medical attention for their condition; however, only 16% of men were currently being treated with oral PDE-5 medication.
Further studies involving younger men and age-stratified analyses have shown the prevalence of ED in men younger than 40 to be between 1-10%. While the prevalence reported in the studies is variable, the fact remains that erectile dysfunction can occur in age groups and impact the quality and length of life.
Even more worrying are the results of a study held in a Urology Clinic that show one out of every four men seeking medical care for Erectile Dysfunction to be younger than 40. The Sexual and Andrology Unit in the Endocrinology setting at the University of Florence had previously recorded infrequent medical consultations for younger men, and only 14.1% of more than 3000 men complained of ED.
But an evaluation of new referrals in the last six years in the Unit has shown a progressive increase in the prevalence of 40 years old with ED. Other than the exploratory analysis showing a predisposition to ED in 40-year-olds, it additionally pointed out that half of the younger men suffered from moderate to severe erectile complications in contrast to older men or had comparable rates of ED.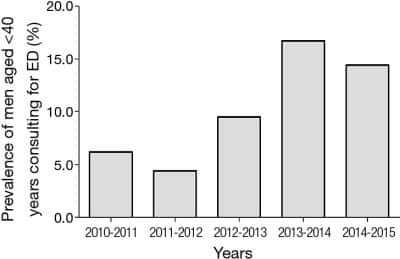 Overall, younger men differed from older individuals in terms of both clinical and sociodemographic parameters. Patients less than or equal to 40 years had a lower rate of comorbid conditions with a lower mean body mass index value and a higher mean circulating total testosterone level than those greater than 40 years. But they exhibited a habit of smoking and use of illicit drugs as compared to older men, which contributed to penile insufficiency.
They even showed a tendency of Premature ejaculation in contrast to a prevalence of Peyronies in older men above 40.
The overall summary of data collected from clinical trials, studies, and meta-analyses has shown that you can stop getting hard at any age and have problems in sexual activities because of erectile insufficiency. Identifying that you have Erectile Dysfunction and getting timely help can go a long way in improving your ED symptoms and resuming satisfactory phases of sexual activity.
ED components in a younger population
 The multidimensional nature of the problem makes it difficult for healthcare practitioners to diagnose ED in younger patients. Complaints of ED are often confused with and put down to performance anxiety- anxiety or panic before erectile activity resulting from negative thoughts about a person's ability during the sexual phase.
But clinical trials and detailed research have concluded that organic disorders, relational, psychological, or psychiatric conditions, can be meaningful in determining ED in younger men.
How to deal with Erectile dysfunction
 Medications like Sildenafil, Tadalafil, or other PDE-5 inhibitors are considered the first line of treatment for ED conditions that can produce satisfactory results irrespective of the patient's age. Other than medications, maintaining a healthy lifestyle, regulating your BMI, getting the due help for your systemic conditions, anpsychotherapy can work wonders in restoring your erectile function.
Bottom line
 Despite age playing a vital role in the pathophysiology of erectile dysfunction, a man can stop getting hard at any age because of underlying conditions. The good news is the condition is treatable. Consulting your healthcare provider will help determine whether you actually have the problem and set you on the recovery path sooner than you think is possible.
https://www.ncbi.nlm.nih.gov/pmc/articles/PMC5313296/
https://pubmed.ncbi.nlm.nih.gov/15171225/
https://pubmed.ncbi.nlm.nih.gov/23651423/
https://www.ncbi.nlm.nih.gov/pmc/articles/PMC5313305/